RVM 500 by JAWA Scrambler

RVM 500 by JAWA Scrambler is a scrambler-type motorcycle produced by the Indian company RVM Motorcycles in partnership with Jawa Motorcycles. This motorcycle impresses with its distinctive design and excellent performance.
Equipped with a 500cc V-twin engine, four-stroke and air-cooled, RVM 500 by JAWA Scrambler reaches a maximum power of 27 horsepower and a maximum torque of 41 Nm. This engine offers quick acceleration and a maximum speed of approximately 140 km/h.
The design of RVM 500 by JAWA Scrambler is remarkable for its aggressive and robust appearance. The motorcycle has a high suspension, which allows excellent maneuverability on rough terrain, and a two-level saddle, which gives it a sporty and comfortable look. Additionally, the motorcycle has large headlights and classic-looking turn signals that complement its vintage and distinctive look.
The motorcycle features a disc brake system on both wheels, which ensures safe and efficient braking during operation. Additionally, the motorcycle has an electronic ignition system and a 5-speed gearbox, which guarantee quick starting and excellent maneuverability on any terrain.
RVM 500 by JAWA Scrambler is an excellent choice for those who want a motorcycle with vintage design and good performance for off-road and on the road. This motorcycle offers an authentic driving experience and a distinctive look that sets it apart from other motorcycles.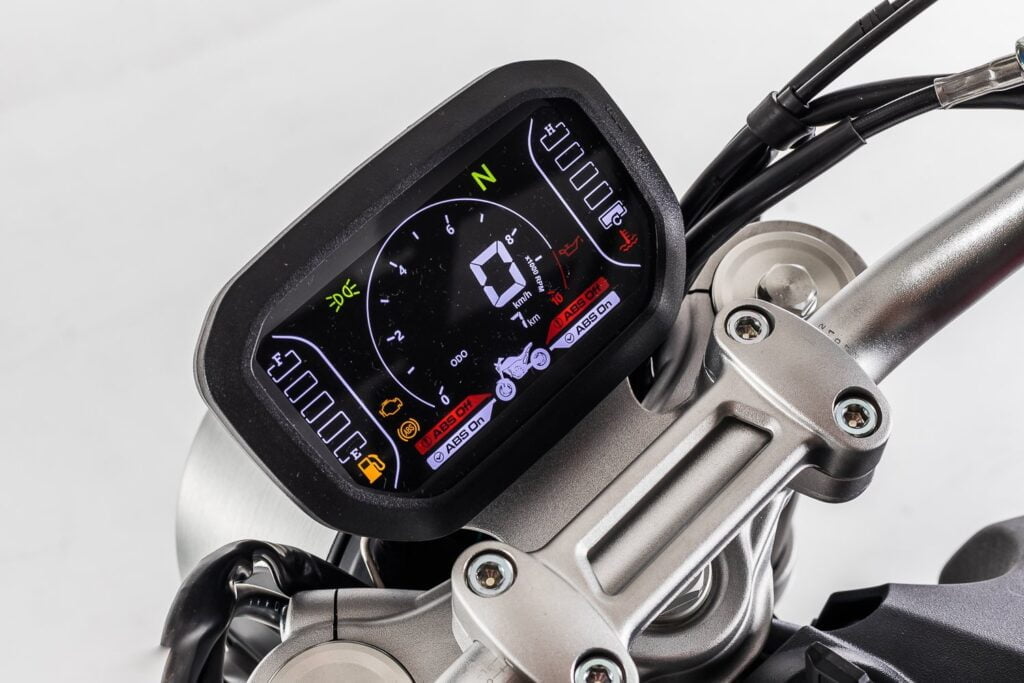 Scrambler - The second model in the series known as "RVM 500 by JAWA", an innovation based on the same platform, is a popular Scrambler-style motorcycle. As mentioned earlier, it is a motorcycle with identical basic technical parameters, especially regarding the engine design. The highlight of the design is the exhaust system, which is dominated by an elegant exhaust of the exhaust system or a suspended rear wheel; it is absolutely the first time this design element is used in our range of motorcycles. The motorcycles are available in red and green colors.
Specificații tehnice RVM 500 Scrambler
| Variant | RVM 500 by JAWA |
| --- | --- |
| Engine | 4 timpi, racit cu apa |
| Cylinder | 2 |
| Bore & Stroke (mm) | 67 x 66,8 |
| Displacement | 471 |
| Compression rate | 10,7:1 |
| Putere maximă (kW/ot. x min-1) | 31,5 / 8500 |
| Cuplu maxim (Nm/ot x min-1) | 40,5 / 7000 |
| Starter system | electroctronic |
| Transmisie | 6 |
| Wheelbase (mm) | 1440 |
| Seat height (mm) | 805 |
| Fuel tank capacity (l) | 18 |
| Reserve (l) | 2 |
| Roata față (") | 2,50 x 19" |
| Roata spate (") | 4,50 x 17" |
| Anvelopă față (") | 110/80-18" |
| Anvelopa spate (") | 160/60-17" |
| Suspensie fata (mm) | 195 |
| Suspensie spate (mm) | 85 |
| Frana fata cu ABS(mm) | 2 x 298 |
| Frână spatecu ABS (mm) | 240 |
| Greutate la gol (kg) | 194 |
| Maximal speed (km/h) | 170 |
| Producator | RVM-KOVE (Argentina-China) |
| Importator europa | JAWA Moto spol sr.o. (Republica Cehă) |
Motor: LONCIN (copie Honda CB500) EURO 5
Amortizoare fata: inversat 41 mm, reglabil KYB
Amortizor spate: progresiv MONO KYB
Frane: NISSIN
Electronica: BOSCH
Lumini: LED
Please contact us for any additional information and we will respond as soon as possible